clients
200+ Happy
Customers
Projects
800+ Projects
Going On
Our team
20000+ Pan-Africa field force
Process of projects
Our data collection methodology are seamless and we often encourage clients to be part of it. From Training stage, where the client witness the standard of our data collection technique as we brief. We are transparent with our Quality Control implementations and share the details of our actions with our clients.
What is more from us is that our clients trust us to gather additional market insights that are valuable to the study.
Agreement
Vendor selection
Field study awarded
Setup
Field preparation.
All survey instruments develop at this stage
Pilot
In-house preliminary test must be carried out
Fieldwork
Project execution, travels, training and quota monitoring
Back Checking
Appropriate Quality Control measures are applied
Data Management
Collation, data check and cleaning.
Tabulated data delivery !
Get in touch with us today.
Digitalize data collection for Market research in Africa
Given the ongoing importance and paradigm shift from paper questionnaires to Online surveys, Fieldwork Africa has moved their entire data collection process to digital in over 20 countries in Africa. It is important we do not lag behind when it comes to quality, responsiveness, and innovation. Our offering includes CATI, CAWI, and CAPI via online surveys using web applications and mobile surveys using mobile apps on the respondents' devices.
If we need to be face-to-face, we collect data using handheld devices like personal computers, smart mobile phones, PDAs, and tablets. We use the ideal technological platform so fieldworkers collect real-time data and we monitor progress in the field seamlessly.
The experience becomes richer with the introduction of the tablet, which has many capabilities and helps to break down any literacy barrier. Playing a video to the respondent to recreate the familiarity of contexts, showing ad videos, posters, or pack designs- all move to reduce the dependency on memory as well as give an adequate description in a bid to induce meaningful insights.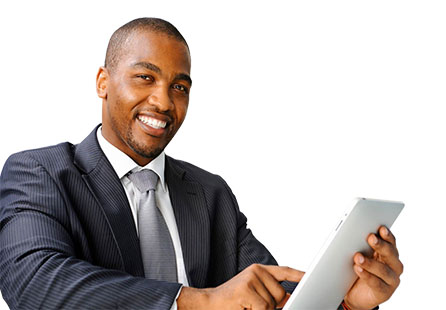 Our digitalized data collection tools with great futures
Flexibility | Rapport building | Logic Checks | Web enabled | Muti-Language | Multimedia